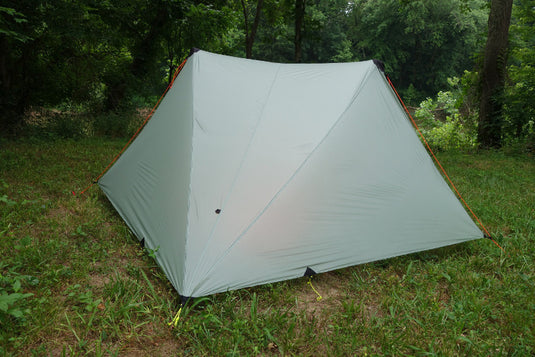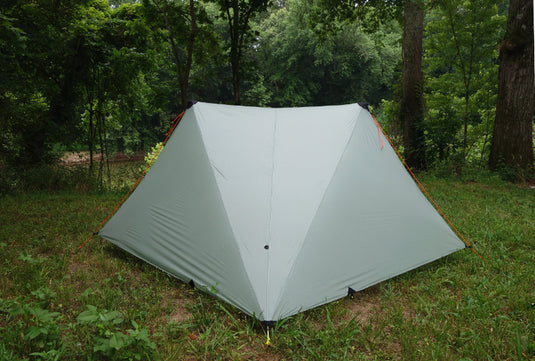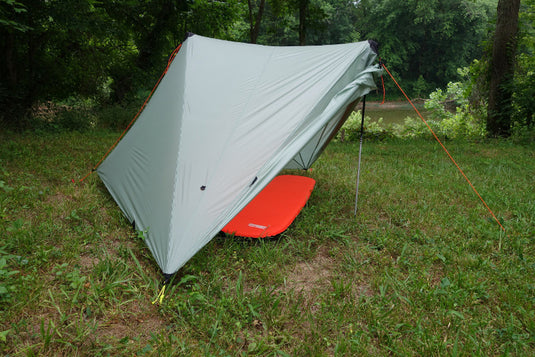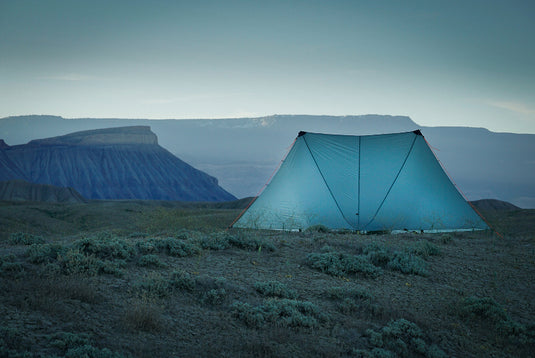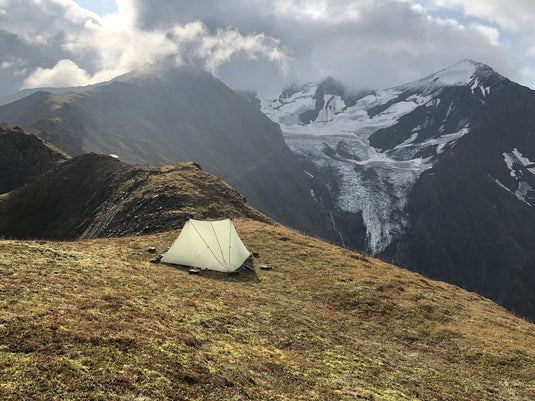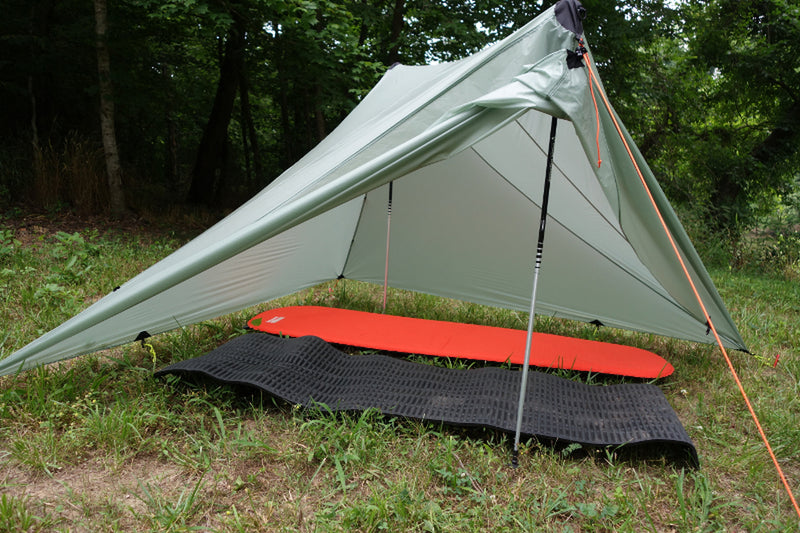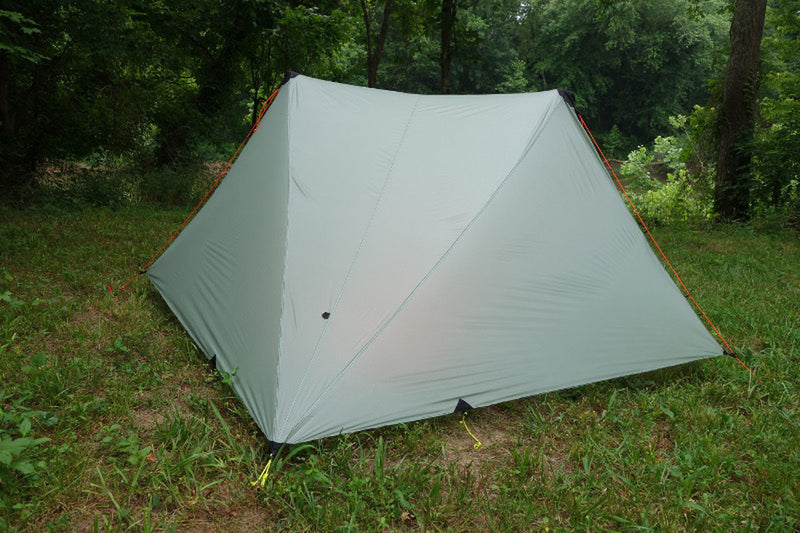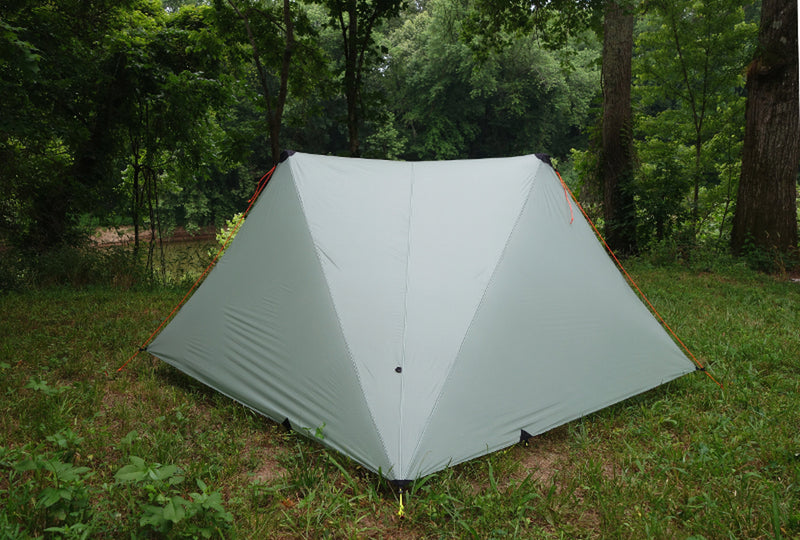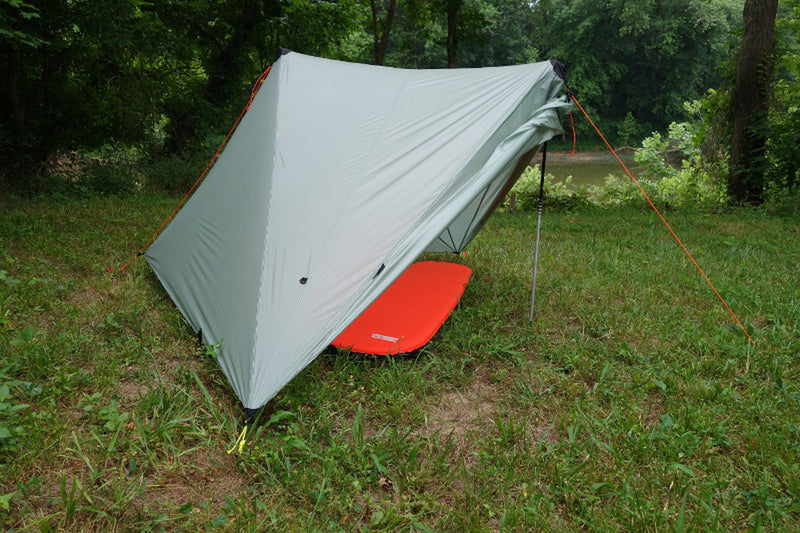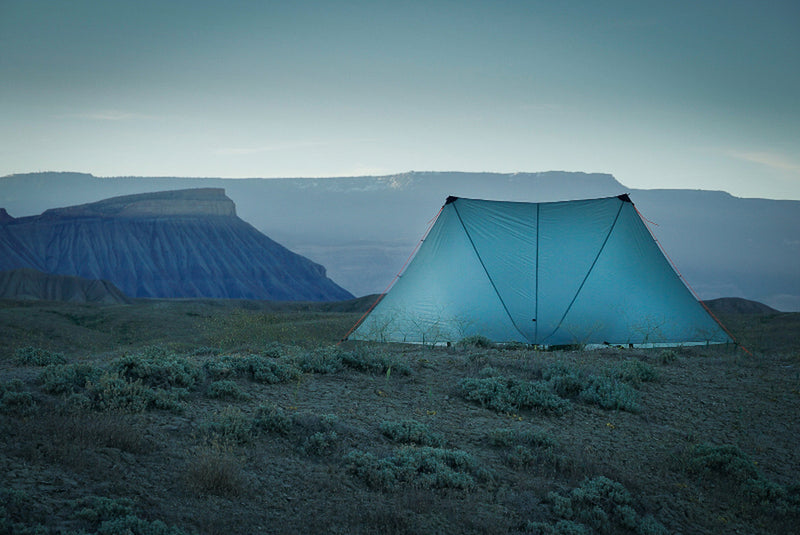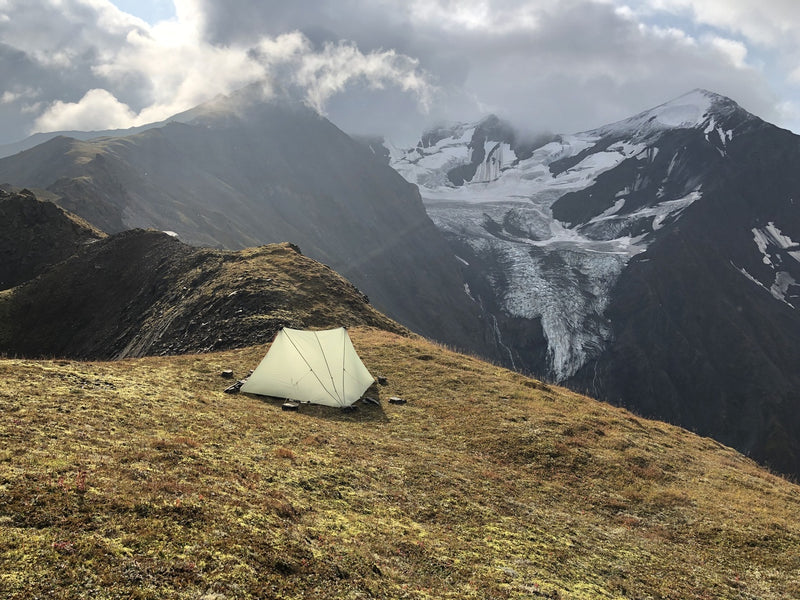 OVERVIEW:
Silex - A 13,628 foot peak in the San Juan Range of mountains in Southwest Colorado.
The Silex is a large single person trekking pole tent that pitches easily with four primary stakes and has two doors and two vestibules.  Sized to be large for one person with a lot of gear, you can squeeze two into the Silex sleeping on the offset instead of diagonal.  With two people a nest cannot be used.
The Silex pitches very tight due to subtle catenary cuts hidden in the seams and this gives it very good performance in high winds.  We recommend stout and sturdy stakes for the four corners, and if you expect rough weather pegging the additional four stake loops is a good idea.
One of our Zipperless Tents, the Silex solves some pain points associated with zippers in ultralight tents - zippers leak, zippers are heavy, and zippers wear out.  Ditching the zipper improves performance in all these areas.
The Silex fills the niche of backpacking tarp, tarp tent, trekking pole tent, and lightweight hunting tent. 
We believe the Silex is an easy to pitch, easy to use, and very stormworthy shelter at a tempting weight.
Handmade in Grand Junction, CO.
SPECIFICATIONS:
Average Weights:

Canopy - 17 oz / 1 lb 1 oz
Canopy, stakes, stuff sacks, & cordage -  21 oz / 1 lb 5 oz
Nest - 16 oz

Dimensions:

Height - 50"
7' W X 7' L, slight diamond shape - one diagonal is 6" shorter than the other.
49 sq ft
Large percentage of usable space.  Sitting height above 36" is close to 18 sqft.
Fabric - 30D Cordura spec ripstop double coated silnylon.  Sage green has a bit of PU mixed into the coating to improve performance in sandy areas.  Hydrostatic head rating 3000-4000 mm.  
Pitching the Canopy
The Silex is a rough square with a slight diamond shape due to catenary cuts in the central seams.  This makes it very easy to pitch by eye.
The canopy requires a minimum 4 stakes and has an additional 4 stake loops for a total of 8 that can can be used in rough conditions.  Guyout loops are provided for optional guylines.
Make sure you have slack in the stakeline cordage.

Stake one of the triple seam corners.

Pull the other triple seam corner out taut.  Use the first guyout point up from the corner as a setback point.  Mark that location and insert a stake there.  Place the cordage loop for the triple seam corner on that stake.

Pull out the two doors and stake, making sure you don't pull the centerline off center (this is easy to do when staking the first door).

Insert the poles (make sure to use the pole handle keepers)

Check tension and adjust stakes as necessary.  

Drive the stakes home and tension the stakeline cordage as necessary.

Stake out the guyouts and guyline if needed.
Tips:
The Silex can be pitched with as few as four stakes.  If you expect rough weather, use beefy, sturdy stakes for these four (such as our Twisted Stakes), and fill in the other stake loops as needed.

In high winds you can dedicate the downwind door for entry and exit and stake out the upwind door.

You can double stake the primary stake positions easily by using a short piece of cordage with loops on both ends.  Run this cordage through the stakeline loop, then stake both loops. The stakeline will look like a "Y" if you do this correctly.

A Tautline Hitch tied on the ends of the vestibule guylines isn't necessary, but handy to add tension.  The same goes for guylines on the sides. Read "Knots You Should Know" on our website to learn this and other useful knots.
To learn more about the Silex, check out Section Hiker's long term review:
Section Hiker Silex Zipperless Tent Review
FEATURES:
Pitches with two trekking poles (not included)
Ultralight trekking pole tent with excellent storm coverage
Add optional nest to provide total bug and weather protection
Zipperless Doors
Fabric - 30D Cordura spec ripstop double coated silnylon.  Sage green has a bit of PU mixed into the coating to improve performance in sandy areas.  Hydrostatic head rating 3000-4000 mm.  
Solo sleeping centering the poles, sleeping on a diagonal.  Two person sleeping arrangement offsets the poles.
When used as a hot tent, you can't use the nest and a stove at the same time.
D-rings on both peaks for additional guyout points, or to pitch with a ridgeline between trees.