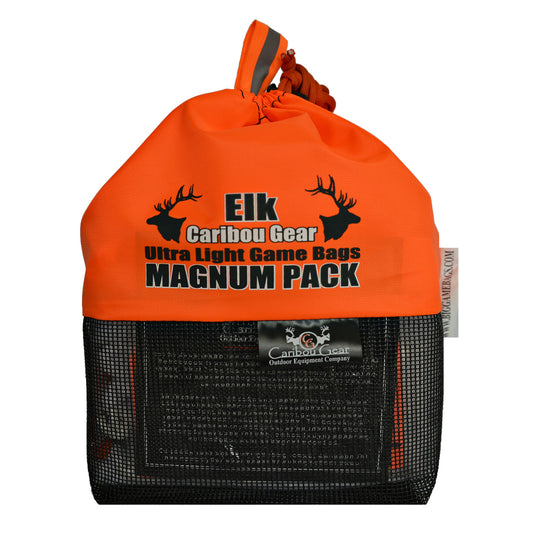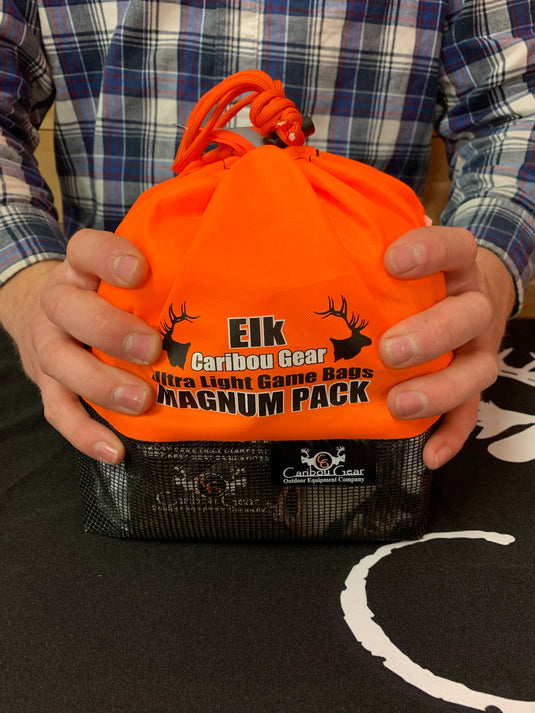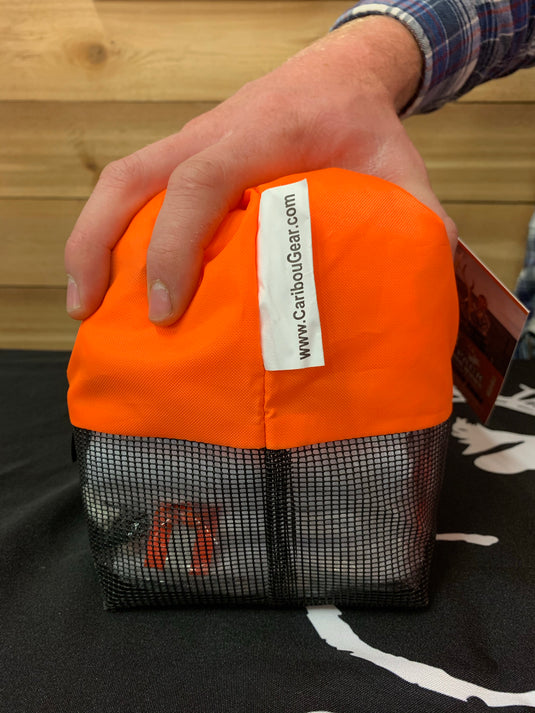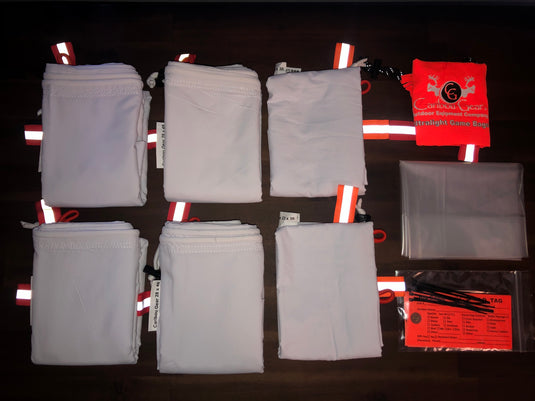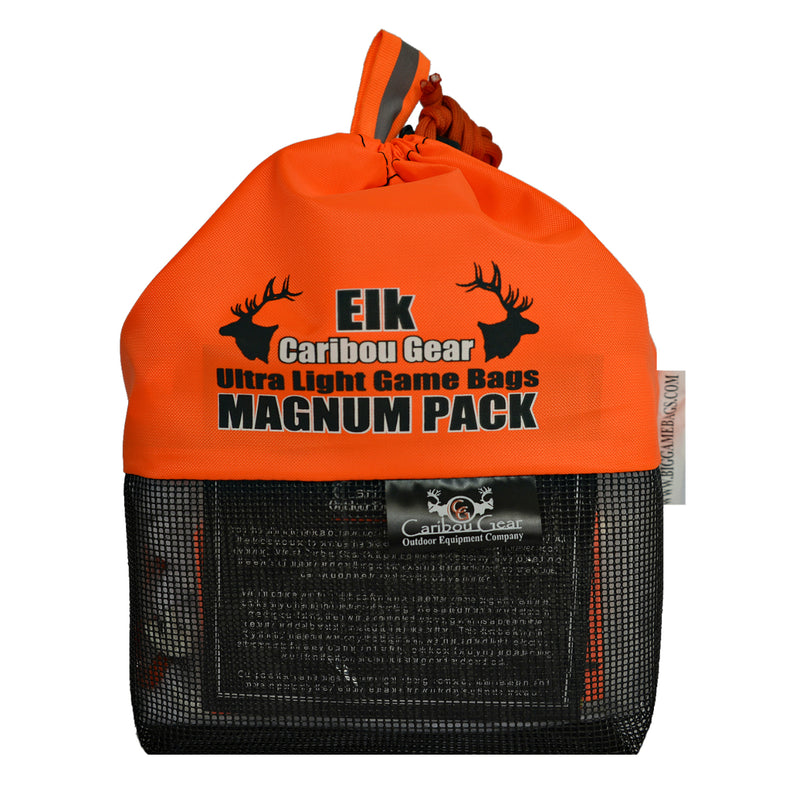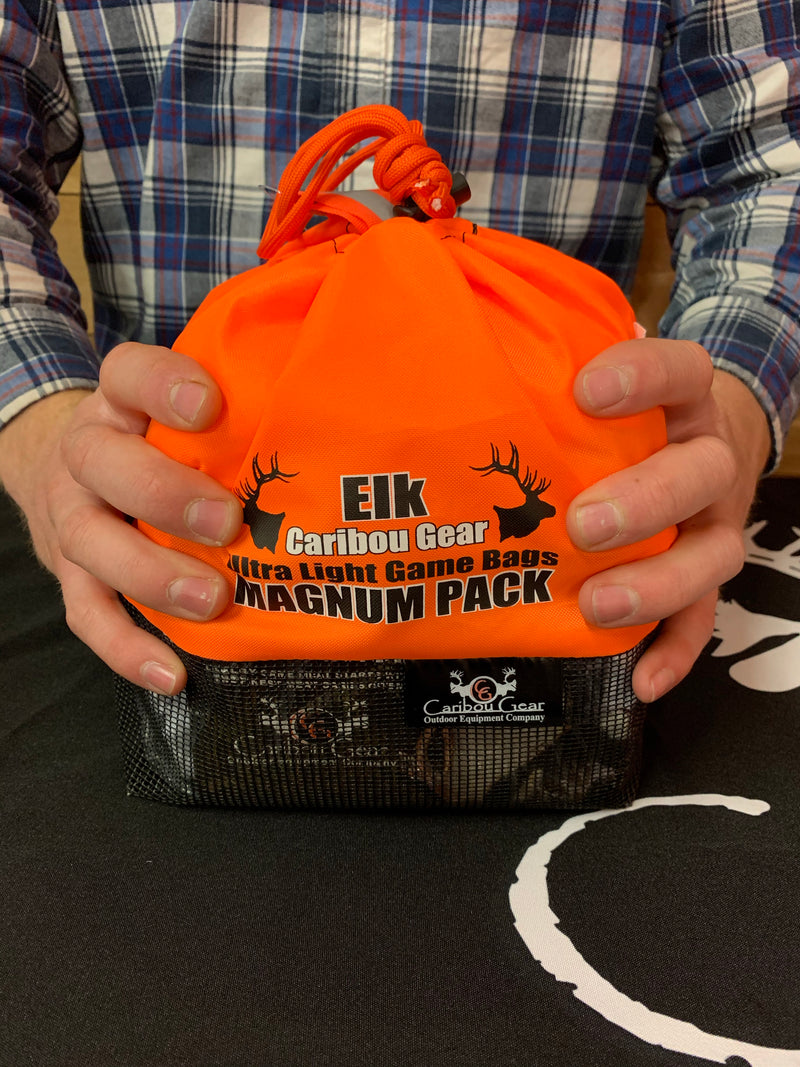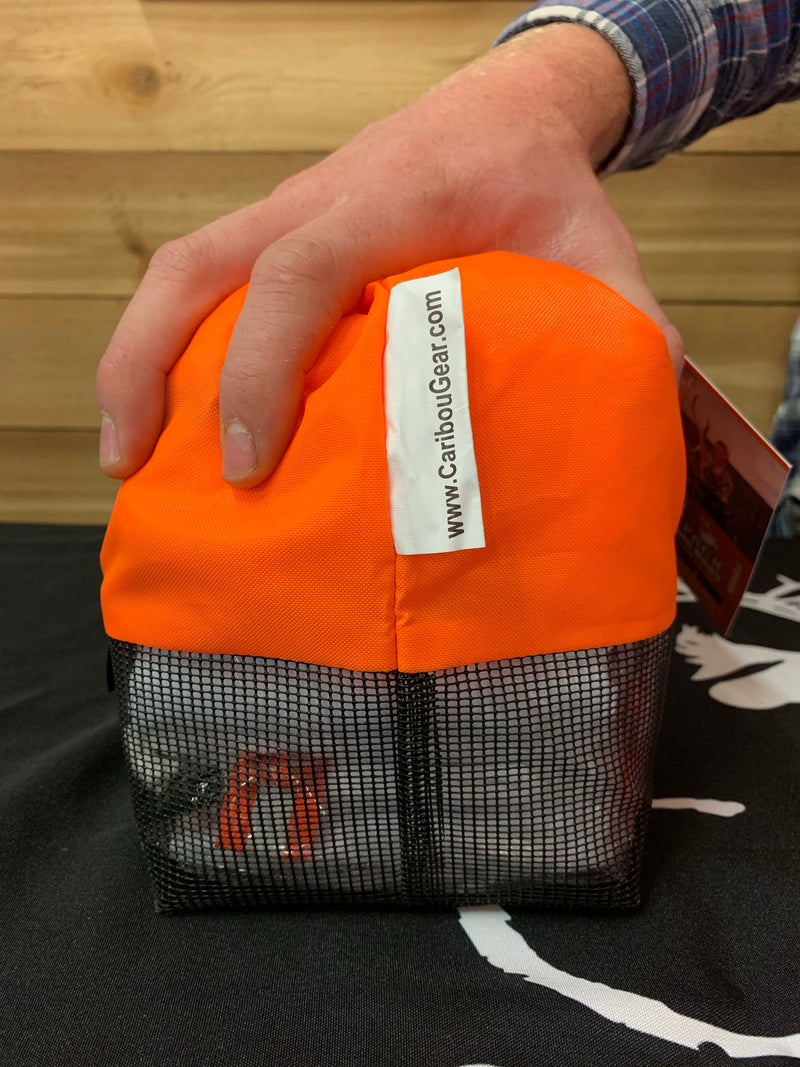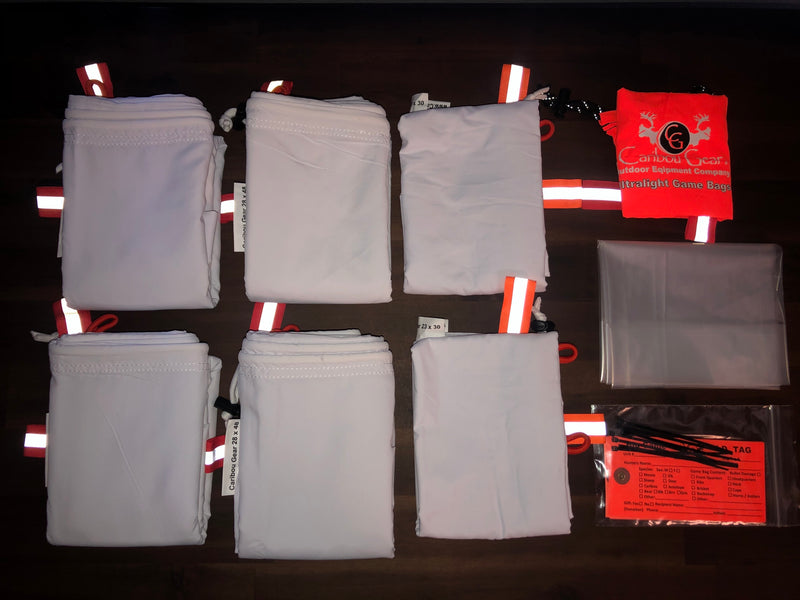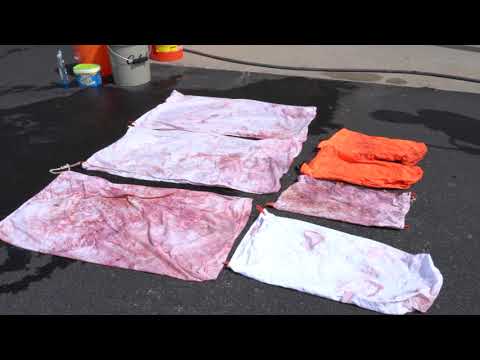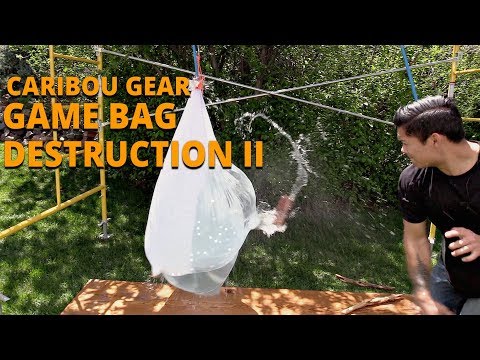 Magnum Elk Pack
Magnum Pack Series
The Worlds only Patented Ultralight Game Bag
MAGNUM PACK SERIES MEDIUM - ELK

This complete multi game bag set is a convenient package system for the elk hunter, heading into the back country by horse or motorized transport.  It's as light and compact as possibly can be, yet tough and durable. 
This game bag system includes 7 varying sized game bags for varying sized game parts. With camp meat bag, storage bag, big game bag ID Tags, *meat transfer form, field tips and instructions. The Magnum Pack Series game bags are larger than the High Country System, allowing ample room for best air circulation and easy handling, during prolonged hunts.
The deluxe package system contains the worlds finest meat game bags designed for Elk, Shiras moose, and like sized game. 
How are we different
Our technologically advanced stain resistant synthetic fabric is scientifically made from a liquid state and specifically made for extreme meat care.  With near all quality attributes of cotton, such as wicking away moisture and most importantly breathability, but has the added strength and durability of a synthetic fabric.  It was important for our game bags to have the characteristics of cotton and not the negative attributes of a pure nylon. A pure nylon bag doesn't allow the meat to breathe risking meat spoilage. 
Why No Logos! We've designed our game bags with meat care in mind. After 21 years of development and over 50 years of hunting we understand how important breathability is in a game bag, silk screen logos, or any attachments around bag, preventing air circulation, risking meat spoilage. 
The Magnum Elk Pack Medium - Features
Bull Elk sized game, Fits a mature meat on bone bull. 


Multi species use Shires, Caribou, and like sized game.


7 Count varying sized game bags for varying sized meat parts.
Camp Meat Bag is a small bag used to contain backstraps and tenderloins. Use the included plastic bag for blood free transport. This is the most convenient way of carrying these choice cuts for dinner back at camp.

 
6 Big Game ID Tags - Tyvek® water/tear proof Big Game ID Tags to easily identify game bag content, game species, part, hunter contact information, harvest date, unit number and check off box to identify bullet or arrow damaged part.
Breathable and Tough - Designed to breathe like cotton, with the strength of synthetic. No dust, bugs or wasps can penetrate, 300 lb rated draw string. NO LOGOS for maximum breathability. See game bag destruction

 

video.

 

  
Visibility - Light reflective draw string and tabs, strategically located so no mater how they are facing they are easy to locate at night, and tabs are attached to seam not interfering with breathability.
Lock Loop - Designed to attach game bag content, *ID Tags, and to lock game bag closed for secure transport, and when in public coolers.
Reusable and Strong - Machine and bleach safe, durable proven performance year after year.
Specifications/Package Content   
4 - 28" x 48" Quarter Bags (Bag Size: " Wide x " Tall)
1 - 23" x 30" Rib Bag

 

1 - 23" x 30" Meat Parts Bag

 

1 - 12" x 21" Camp Meat Bag

 

1 - 10" x 24" Plastic Bag2 mil plastic bag
6 - Waterproof Tear Proof Big Game ID Tags
1 - Vented Storage Bag with rubber coated mesh lower and labeled nylon upper.
Total Weight: 2lbs

Item Number #6468
* Meat Transfer Form - Printable PDF 
Note: We highly recommend that you purchase Game Bag Spray (item #6369) This kills bacteria, retards bacteria growth, keeps insects off meat and assists in spoilage prevention.     
15+ years of proven success, don't settle for less!
The Magnum Pack Medium system is proudly packaged in the USA
Be sure to see
Game Bag Destruction Video - Shows overall strength! (see above)

Meat Transfer Form and Field Tips - This is a free must have! Do you need to gift meat or transfer possession of meat for transport you'll need this form. Also helpful tips when hunting in bear county, meat care and washing game bags and so much more... 

Print PDF

     
How to wash your game bags and in field meat care