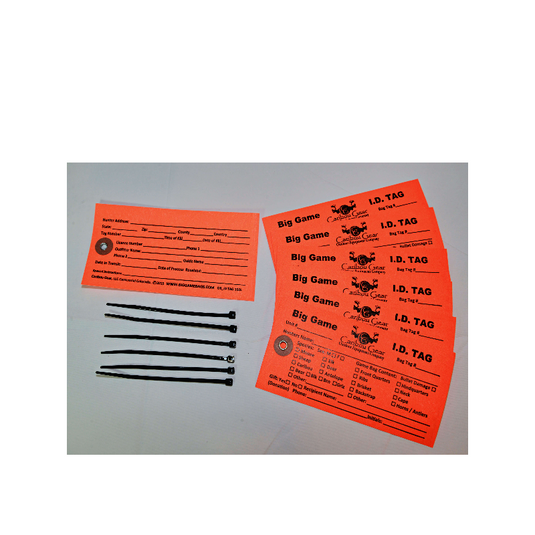 Game Bag Identification Tags
All for Convenience this ID Tag will save you time and money
Name - Address - Species harvested - Meat- Waterproof - Tear Proof Bright Florescent Orange  -  Check off boxes (minimize writing)- Contact Information  -  Donation Instructions  -  Dates Parts ID - and Destination Options, Whether the content is to be donated or sent to the butcher. 

Big Game ID Tags are extremely useful in identifying the owner of the bags, bag contents, instruction, and donation information.
On a guided hunt, your guide will thank you when its time to send the meat in for shipment!  
Your butcher will thank you because all your information is in each bag!
The recipient of donated game meat will thank you, because when their stopped by fish and game the hunter's information is attached to each bag.
You'll thank Caribou Gear® because you didn't donate your buddies meat by accident!
An inexpensive way of doing things right, and in the long run saving yourself a lot of heartache.
With multiple hunters in camp and multiple species taken, this information packed Identification tag will tell you and others the content of the Big Game Bags.